I got an update from Dirk today of his on going encyclopedia of fiber builds in Europe.
Dirk begins:
Fiber on the rise
In a press release the OECD in October 2006 stated:
"Fibre to the home is becoming increasingly important for broadband access, particularly in countries with high broadband penetration."
Indeed!
I recently found a direct source to the Japanese FttH stats . They show that in that country there are in june 2007 about 9.5 million FttH subs and at some point next spring fiber will surpass xDSL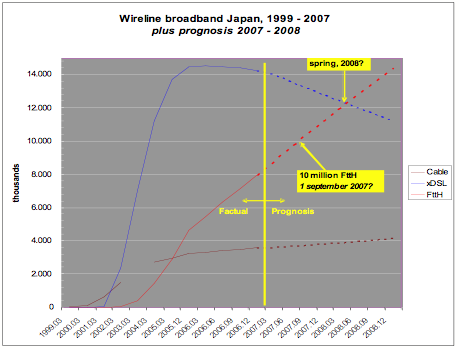 It's outside the scope of this overview, however I do want to congratulate Lafayette (LA, USA) with its successes: the FttH network will be rolled out and with exciting features .
Next to this there are some exiting developments in France, Norway, Switzerland and, lo and behold, the Netherlands. More below the fold.
Cook's Edge: the link above will down load Dirk's complete report in word format. It is almost 9000 words long and is footnooted with dozens of links.
Meanwhile the policy makers of Bush's "Ideology-First" Administration continue to bury our future with their view that the free market in the United States will get us what we need. It's not here? gee - must be no demand. They are so pathetically ignorant of this subject it is impossible to be polite.
Leave a Reply